About Us
The Helen Wiltshire Gallery is an icon of Mission Beach, it began as 'The Bingil Bay Gallery' in 1980 at Helens family home nestled in the rainforest across from the beach at Bingil Bay and expanded to open in Wongaling Beach and then Mission Beach Village as 'The Helen Wiltshire Gallery'.  Helen had successful galleries in Cairns, Hamilton Island, Port Douglas and Palm Cove.  Through her galleries Helen was able to showcase her own work and also foster the lifestyle and careers of many local artists living in the area.  In doing so Helen played a great role in enriching the arts culture and history of Mission Beach and it's tropical islands as a haven for artists.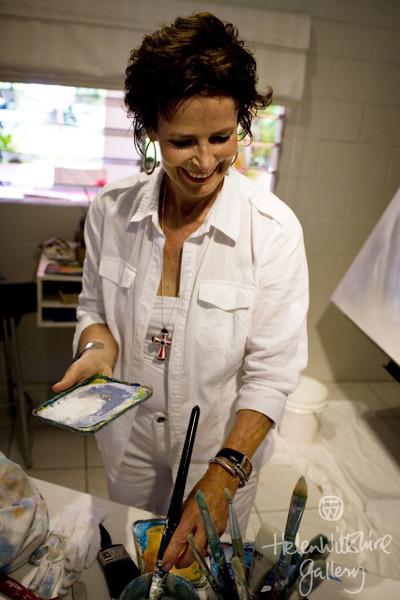 In June 2011 Helen lost her battle with breast cancer, however her courage and determination to fight was an inspiration to all. Helen's passion for art lives on through not only her extensive collection of originals and prints, but through the hands of her children. Today, her works are displayed alongside that of other local artists in the Helen Wiltshire Gallery.
Located in the heart of Mission Beach, the Gallery is now owned by her three children Amanda, Ben and Hilary who are continuing it in her honour. Having grown up in Mission Beach and Bedarra Island off the coast of Mission Beach, Helen's children share her love of this tropical paradise. Son, Ben Wiltshire, is a newly emerging artist, gathering his inspiration from the tropical lifestyle that he is so familiar with. From island shores to ocean wildlife, Ben depicts his love and knowledge of the tropical north with a unique Impasto style, where the paint is almost three dimensional in appearance, truly bringing the canvas to life.
Eldest daughter, Amanda Wiltshire also a talented painter is currently exploring art as a hobby, hoping to take her abilities further in the future. Amanda is now an Author and illustrator of two books, both available through the Helen Wiltshire Gallery.
Youngest of Helen's children Hilary Watson, is an integral part of the business having worked closely with Helen over the years in the gallery.  In recent years coordinating events and exhibitions and helping to launch a range of jewellery that was designed by Helen – 'Helen Wiltshire Designs' inspired by the scenery and wildlife of North Queensland. This wearable art has only recently been reproduced and released for purchase in September of 2017, available exclusively through the Helen Wiltshire Gallery and website.
Links to works for sale:
https://helenwiltshiregallery.com.au/exhibiting-artists/helen-wiltshire/
https://helenwiltshiregallery.com.au/exhibiting-artists/ben-wiltshire/
https://helenwiltshiregallery.com.au/exhibiting-artists/amanda-wiltshire/
https://helenwiltshiregallery.com.au/product-category/jewellery/