Exhibiting Artists
Alongside Helen's work is a collection of other Australian artists.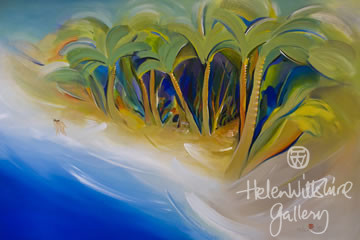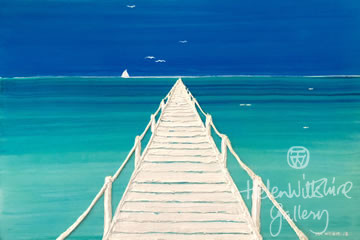 The Helen Wiltshire Gallery has works by well known North Queensland Artist Dianna Crooke, her work showcases the Far North Queensland lifestyle, inspired by her father Ray Crooke and her upbringing in a Torres Straight Island community. The gallery proudly displays artwork by Helen Wiltshire and Helen's work is complemented by the bold, richly coloured and textured paintings by her son Ben Wiltshire. Paintings showcased include those by local artists.  A range of sculpture and pottery can also be found amongst the artwork of Helen's Gallery, marble sculptures, striking glass art.
Stunning pottery with the distinctive blues and aqua and tropical motifs.  The gallery is also well known for its beautiful range of handmade jewellery, local jewellers  whose individual styles are much adored by locals and visitors alike.  The Helen Wiltshire Designs jewellery range features Pelican necklaces and coastal theme. 
The gallery also stocks Jewellery from Port Douglas and the exotic range of crocheted statement pieces as well as the must have pearl collection. Books from local author and daughter of Helen Wiltshire,  Amanda Wiltshire are also available through the gallery. 
Postage and delivery can be arranged online through the gallery shop or by contacting the gallery.